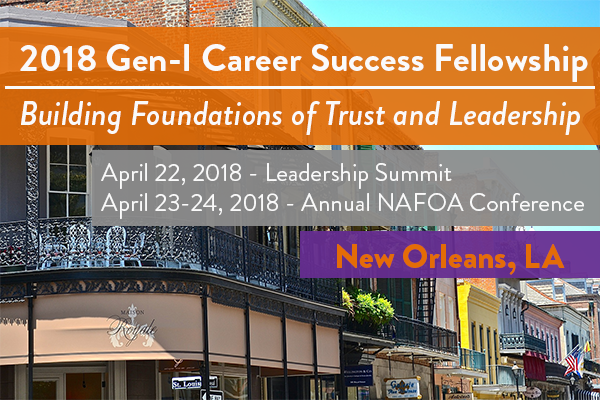 2018 Gen-I Career Success Fellowship Program Updates
December 10, 2017
A Big Update for the 2018 Gen-I Career Success Fellowship!

Introducing the theme for this year's Gen-I Career Success Fellowship: Building Foundations of Trust and Leadership!

As part of the Generation Indigenous (Gen-I) movement, the Center for Native American Youth (CNAY) and NAFOA have partnered to create the Gen-I Career Success Fellowship program. The fellowship program is designed to help students discover and articulate their career interests and prepare them for success in their chosen career.

Time is running out for motivated young adults aged 18-24 to apply to join us for this incredible opportunity to make a difference in their communities while preparing themselves for future professional success.

Fellows will receive an all-expense paid trip to New Orleans, LA in April 2018 to participate in a day-long Leadership Summit prior to attending the Annual NAFOA Conference. There, they will attend networking events and luncheons, as well as track sessions and participate in off-site visits.
QUICK LINKS:

IMPORTANT DATES:
January 29, 2018: Last day to sign up for NASCA
February 12, 2018: Last day to apply for the Fellowship
April 22, 2018: Leadership Summit
April 23 & 24, 2018: NAFOA Conference

Highlights from last year's fellowship include:
•Meeting Tribal leaders
•Learning about Yocha Dehe Wintun Nation's Séka Hills Products
•Offsite visits to Reddit and Seven Post Investment Office

"Tribal economic development is extremely important for native people, for it permits the opportunity to break the cycle of poverty, unemployment, and infrastructural deficiencies."
-Lala Forrest, Pit River Tribe, 2017 Fellow

Click here to learn more about the 2017 Gen-I Career Success Fellows

FELLOWSHIP REQUIREMENTS:
Applicants should be between the ages of 18-24
All applicants must enroll and complete NAFOA's Native American Career Success Academy, an online professional development curriculum for Native youth.
The curriculum consists of two modules:
Career Preparation and Navigating Your Real Costs
Thank You to Our Generous 2017 Fellowship
Donors
Sponsors