5-15-2020 Morning COVID-19 Brief
May 15, 2020
Jacob Schellinger Hits the road to Arizona

"It's been an immensely gratifying experience to work at NCAI and to work with everybody," he told Indian Country Today. "I've learned just a ton from numerous people that I've interacted with, both inside and outside the organization" (Indian Country Today)
Good luck Jake! It has been a pleasure working with you over the years, thank you for all the work you've done for Indian County.
Treasury Request for Employment and Expenditure Information
Employment and expenditure information is required to be submitted by tribal governments through an electronic form that will be made available on Treasury's website early in the week of May 17. The required information will include employment and government expenditures.
Employment:

1. Enter the number of employees shown on line 1 of IRS Form 941 for each quarter of calendar year 2019.
2. Submit a pdf file or other electronic copy of the supporting Form(s) 941for each employer.

Government Expenditures:

1. Enter total governmental expenditures for the 12 months of the 2019 fiscal year.
2. Enter total amount of federal financial assistance requested along with any relevant work sheets.

Definition of government expenditures includes, but are not exclusive of;

General government, public safety, health services, wellness services, substance abuse, general welfare and assistance, community services, cultural programs, education, recreation, housing, economic development, planning and development, sanitation, judicial, and similar activities. Capital outlays and debt service costs shall not be included within governmental expenditures.
Why PPP is coming up short


Data: NFIB; Reproduced from Deutche Bank; Chart: Axios Visuals
There are more than 30 million small businesses in the country but just under 6 million have gotten PPP loans. That means it's likely many in need of funding haven't been able to get it or have chosen not to pursue it.
TODAY Congressional Livestream:

House Natural Resources Committee: Chair Grijalva and subcommittee Chair Gallego lead roundtable on HEROES Act Benefits for Indian Country
Title: Coronavirus in Indian Country: Tribal and Urban Organizations
When: TODAY 5/15 at 1:00 p.m. Eastern time
Watch Live:
Speakers:

Raúl M. Grijalva, Chair, House Committee on Natural Resources
Ruben Gallego, Chair, Subcommittee for Indigenous Peoples of the United States
Kevin J. Allis, Chief Executive Officer, National Congress of American Indians
Dante Desiderio, Executive Director, Native American Finance Officers Association
Walter Murillo, President, National Council of Urban Indian Health
News:

Sen. James Lankford On Economic Recovery And Coronavirus (wbur)
"And so the engagement has been very, very strong to be able to help as much as we can in those areas. And for the tribal leaders that I've talked to in my states, their tribes and their councils are sitting down, working through the best way to be able to get that help to individuals that are within the tribe and also tribal facilities to be able to make sure."
Coronavirus adds to problems that Native Americans face (China Daily)
"The federal government is responsible for providing education, healthcare and other services to the country's Native American tribes by law and various treaties, but such services have historically been inadequate, leaving Native American communities in a perpetual state of poor health with high suicide rates and high dropout rates."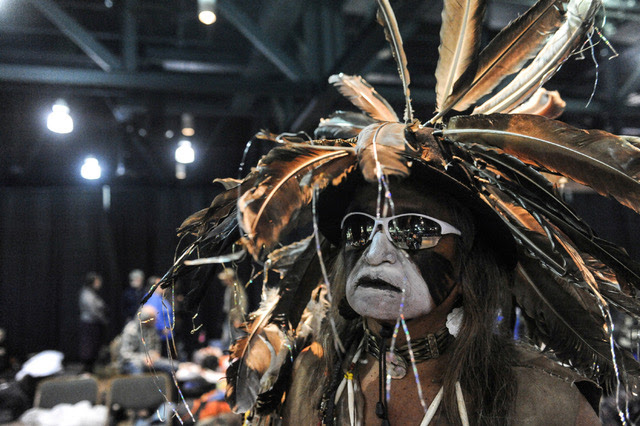 FILE PHOTO: A Native American dancer is seen at the Prairie Knights Casino during a pow wow on Standing Rock Indian Reservation, in Fort Yates, North Dakota, US December 6, 2016. [Photo/Agencies]