7-24-2020 Morning COVID-19 Brief
July 24, 2020
Policy Summary - Deal Expected Next Week
A draft proposal was circulated yesterday that was used as a basis for Senate discussions. The proposal was immediately panned by Republicans in the Senate and in the White House with differing views of the role of the federal government during this crisis.
Unemployment assistance is at the center of the intra-party dispute over the next round of funding. The enhanced unemployment assistance of an additional $600 will begin to expire today. Some Republicans in both Congress and the Administration feel the enhanced benefit provides a disincentive to go back to work. Democrats feel it is necessary, but they are not alone. Most economists agree the enhanced unemployment assistance has buoyed the economy. Withdrawing the support now will lead to credit issues, less spending, and lower job prospects - all when jobs are being lost at record rates. Yesterday, another 1.4 million jobs were announced lost in the past week with a significant portion blamed on the expiration of the PPP program which subsidized job employment for small businesses and non-profits.
Republicans are caught in the middle of the health, economic, and political storm with no obvious life rafts. They will need to move some form of relief. Here is what is up for debate:
Unemployment assistance is by far the most important consideration for Republicans to wrestle with this next week. Democrats want to continue with an enhanced benefit and Republicans want to see a stripped down version with an incentive to get back to work. A deal may be reached on a stand alone bill to address a compromise on unemployment assistance with the remaining issues debated for another day.

PPP loansare back and being discussed in earnest with streamlined forgiveness for loans under $150K and a focus on revenue loss as a qualifier. The program has broad support even though it has been criticized for the lack of a targeted approach for who received assistance. There is also consideration being given to a small business credit program that hopefully will work much better than the Main Street Lending Program.

FYI - Yesterday's updated SBA Guidance includes the following: "The PPP Forgiveness Platform will go live and begin accepting Lender submissions on August 10, 2020, subject to extension if any new legislative amendments to the forgiveness process necessitate changes to the system."


Liability protections are a key Republican ask during the negotiations with little dissent. The protections would extend to businesses, schools, and health care providers that followed recommended CDC guidelines when reopening or caring for patients.

Education assistance would include an initial $105 billion for schools, colleges, and universities. $70 billion of the amount proposed would go to K-12 schools with $10 billion of that amount reserved for private schools. A good portion of the funding is tied to reopening schools with money flowing out from the federal government and spent by schools in a quick one month turnaround.

Health care funding is planned at a $235 billion starting point for testing, workplace preparedness, research, mental health and other uses. The Administration is calling for reduced testing making this a negotiated item.

Individual assistance includes support for child care and the possibility of another round of stimulus payments. The stimulus payments are up for debate and if added, they will have greater income restrictions.

Government support includes greater flexibility for the existing CARES Act funding which considers a more liberal use of funds and an extended deadline for using the funds. Democrats are calling for more government relief as are economists who agree that states and other governments will begin layoffs in earnest over the next several months making a recession much more severe.
UPDATES AND RESOURCES:
"I don't want a GOP proposal that's going to include state bailouts...Every day they wait is a good day for the country."

Senator Rick Scott (R-Fla.)
(Politico)

Chart of the Day: The unemployment situation is really, really bad (Axios)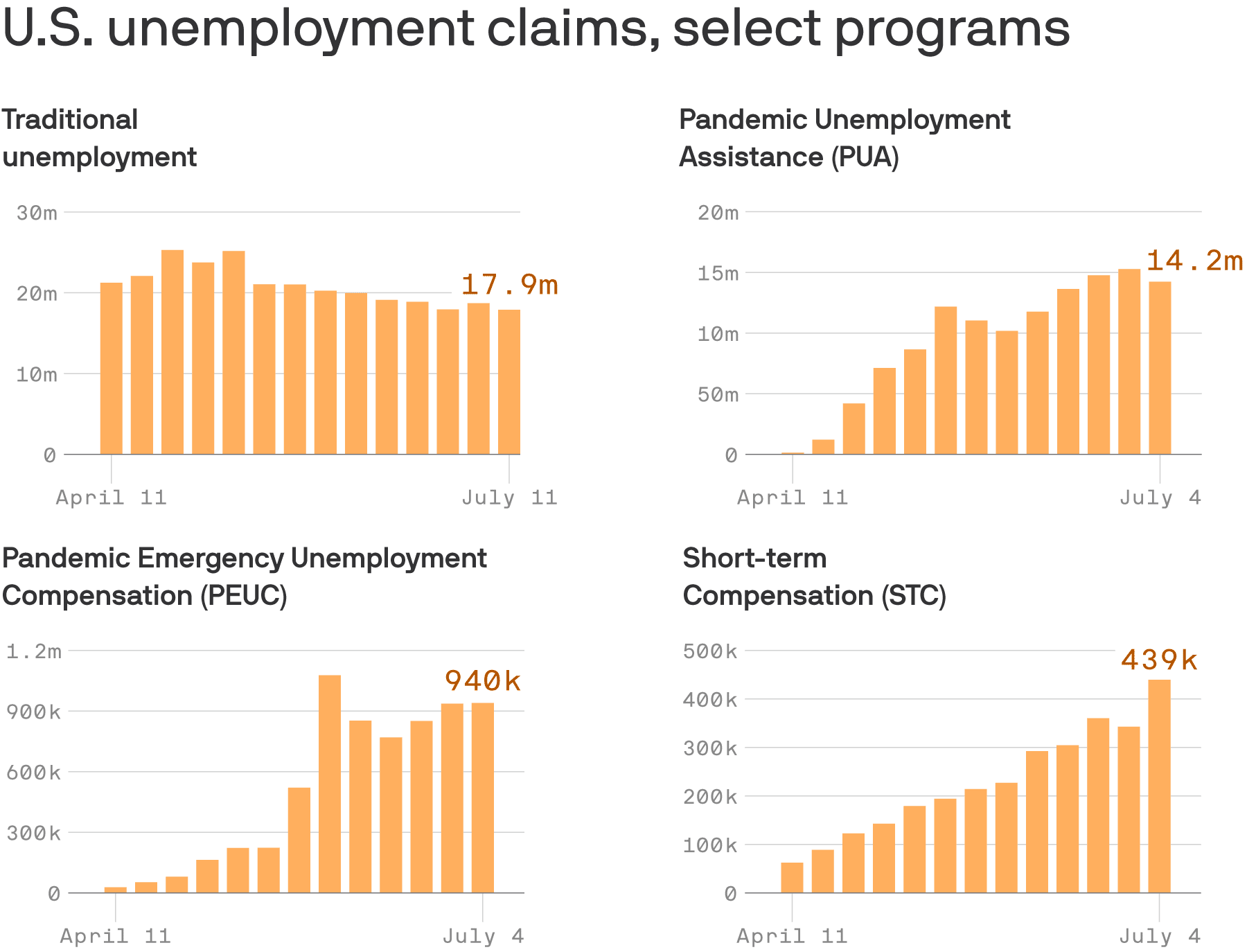 Data: Department of Labor; Chart: Andrew Witherspoon/Axios

Such programs have helped uphold American consumers' spending, but have been quite costly — government spending in June totaled $1.1 trillion, according to CBO estimates — more than triple outlays in June 2019, or about a $763 billion increase.

The unemployment picture looks to be worsening right as the $600 in additional federal unemployment assistance expires.

News:

Yurok Tribe implements extensive broadband project (Indianz.com)
The Yurok Tribal Council recently approved a $2.1 million project that will significantly boost Yurok Connect's data transmission speeds and expand its coverage to many family homes that have never had access to the internet.
The Coronavirus Aid, Relief, and Economic Security (CARES) Act-funded, Yurok Connect Broadband Project is expected to be completed before the end of this year. Launched in 2013, Yurok Connect is a Yurok Tribe-owned, wireless internet service provider.
...
To date, the Tribal Council has strategically invested CARES Act dollars into multiple projects that address different challenges posed by the COVID-19 crisis. For example, last week, the Tribe broke ground on a 20,000 square foot emergency operations center, which will serve as the headquarters for the Yurok Incident Command Team. CARES dollars were used to start a forgivable grant program for tribal business owners and entrepreneurs. The Tribe has also sent $1,250 in relief funding to tribal citizens who are facing financial challenges because of the pandemic and are over the age of 18 by December 30, 2020.

Navajo Nation extends closure of government offices (Indian Country Today)
Navajo Nation President Jonathan Nez signed an executive order Wednesday to keep parts of the tribal government closed through mid-August, citing surges of coronavirus cases off the reservation.
Executive branch divisions, departments and offices that were set to reopen July 27 will stay closed until Aug. 16
South Dakota lawmakers criticize Kristi Noem on tribal checkpoints (Indian Country Today)
South Dakota lawmakers on Tuesday called for formal consultation processes between tribal and state governments following Gov. Kristi Noem's handling of a conflict over coronavirus checkpoints set up by tribes.
...
Noem and the tribes differed in their accounts of how the dispute evolved. The governor claimed that her threat of a lawsuit only happened after weeks of behind-the-scenes communication because the tribes had not received permission to set up the road stops on highways that belonged to the federal or state government. They are illegal, she argued. But the tribes countered they had consulted with federal and state authorities and that their position as sovereign nations allowed them to set up the checkpoints.
For inclusion in future morning brief emails, please send your updates from your respective organizations or notes and news from tribes to Ellie Beckett at Ellie@nafoa.org.