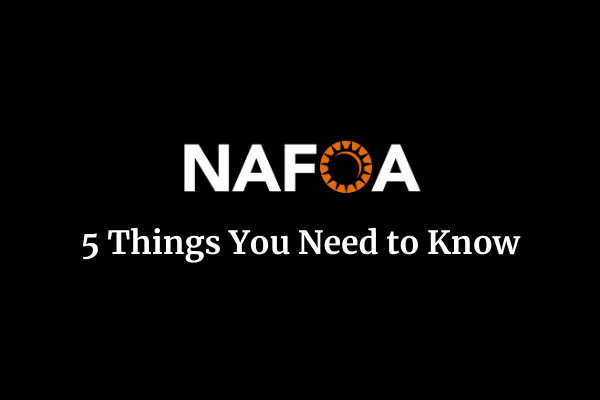 August 31: 5 Things You Need to Know this Week
August 31, 2020
Photo of the Week: "I miss the excitement of the general session and seeing all of our hard work come together. I am looking forward to bringing attendees together in new ways online and having some laughs with the comedian."— Missy, Events and Project Manager

Let us know what you miss, too! Post photos of your favorite NAFOA Conference memories on Facebook, Instagram, or Twitter with #NAFOAMemories and tag @nafoaorg.
1. EVENTS:
THE ART OF #NAFOAFALL2020
Be a part of the NAFOA community in art form! Illustrator Matt Orley from Big Paper Strategy will be drawing a live illustration during the NAFOA Virtual 2020 Fall Conference on October 5th - 9th. Join us and see some of your thoughts, insights, and participation memorialize in the official conference illustration.

If you would like to use a registration credit from the Spring Conference, please contact Missy Hurley.

Thanks to the generosity of our Corporate Partners, NAFOA has a number of Sponsored Complimentary Registrations available to tribal members and employees to attend the conference. Please contact VaRene Martin or Dustin VanWinkle for more information.
2. POLICY:
OMB UPDATES UNIFORM GUIDANCE AND RELEASES COMPLIANCE SUPPLEMENT
On August 13, 2020 the Office of Management and Budget (OMB) published in the Federal Register (85 FR 49506) revisions and updates to the Uniform Guidance 2 C.F.R. Part 200. This is the most substantial update since inception in December 2013 and are the culmination of the required five-year review of the guidance as outlined in 2 C.R.F 200.109.

NAFOA submitted a comment letter earlier this year after meeting with Indian Country audit and law professionals expressing our concerns regarding public posting of Negotiated Indirect Cost Rates (NICR) of Indian tribes or tribal organizations.

Read NAFOA's broadcast for more details and information.
3. MORE POLICY:
SEC MODERNIZES ACCREDITED INVESTOR DEFINITION AND INCLUDES INDIAN TRIBES
4. FOR THE COMMUNITY:
RECORDING AVAILABLE - BUILDING YOUR SQUAD: FAMILY CONVERSATIONS FOR FINANCIAL WELL-BEING
Missed our webinar last week with the American Indian College Fund? You can watch a recording of the webinar on NAFOA's website.

Hear from two Native women CPA's, Hattie Mitchell, CPA, Tribal Controller of the Augustine Band of Cahuilla Indians and NAFOA Board Treasurer, and Tasha Repp, CPA, Partner and National Practice Leader at Moss Adams, as they discuss some habits and resources you should know about to reach and maintain financial wellness.
5. PROFESSIONAL DEVELOPMENT:
BUY THE ORANGE BOOK AND GET GLOSSARY OF INDIAN FINANCE TERMINOLOGY FOR FREE*