Explore San Antonio While Attending #NAFOAFALL21
June 30, 2021
NAFOA's 2021 Fall Finance & Tribal Economies Conference to be held September 27-28, 2021 at the Grand Hyatt San Antonio in San Antonio, will offer you the opportunity to attend educational sessions focused specifically on growing your tribe's economy, and also give you the unique chance to visit and explore the vibrant city of San Antonio.Register Today
The Alamo
San Antonio is well known for the Alamo – the site where 189 Texans lost their lives during a fight that sparked Texas' struggle for independence. Today, the Alamo stands as a tribute to these men, displaying artifacts belonging to some of the Alamo's most famous defenders, including Davy Crockett and James Bowie. The Alamo is located in the heart of downtown San Antonio, a short walk from the hotel
.
River Walk
One of the best ways to see San Antonio is by walking along the River Walk. San Antonio's most-visited tourist attraction meanders along the banks of the San Antonio River through the center of the city, and flanking the River Walk are dozens of restaurants, boutique hotels and sidewalk cafes. The Grand Hyatt is located along the River Walk.
Brackenridge Park
Brackenridge Park's 343 acres offer much to see and do: rustic stone bridges and shaded walkways are perfect for strolling, the Japanese Tea Garden and San Antonio Botanical Garden are great to explore. The park also has jogging trails, a golf course, and athletic fields. In and around the park, you'll also find popular attractions like the San Antonio Zoo and the Witte Museum.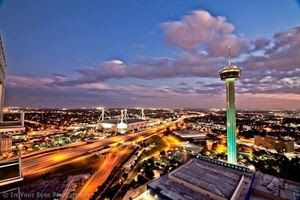 Tower of the Americas
Located in downtown San Antonio, the 750-foot-tall Tower of the Americas provides a spectacular view of the city. Enjoy the gorgeous panorama from the Tower's revolving restaurant, take in the scenery from the Observation Deck or experience the thrilling 4D Theater Ride.
 Register today and plan your trip to San Antonio

Conference Links
Member Tribe Registration Form
Sponsor/Exhibitor Opportunities
Grand Hyatt Safety Information
Thank you to our Gold Sponsors

Interested in becoming a sponsor? 
Contact VaRene Martin at varene@nafoa.org or Dustin VanWinkle at dvanwinkle@nafoa.org