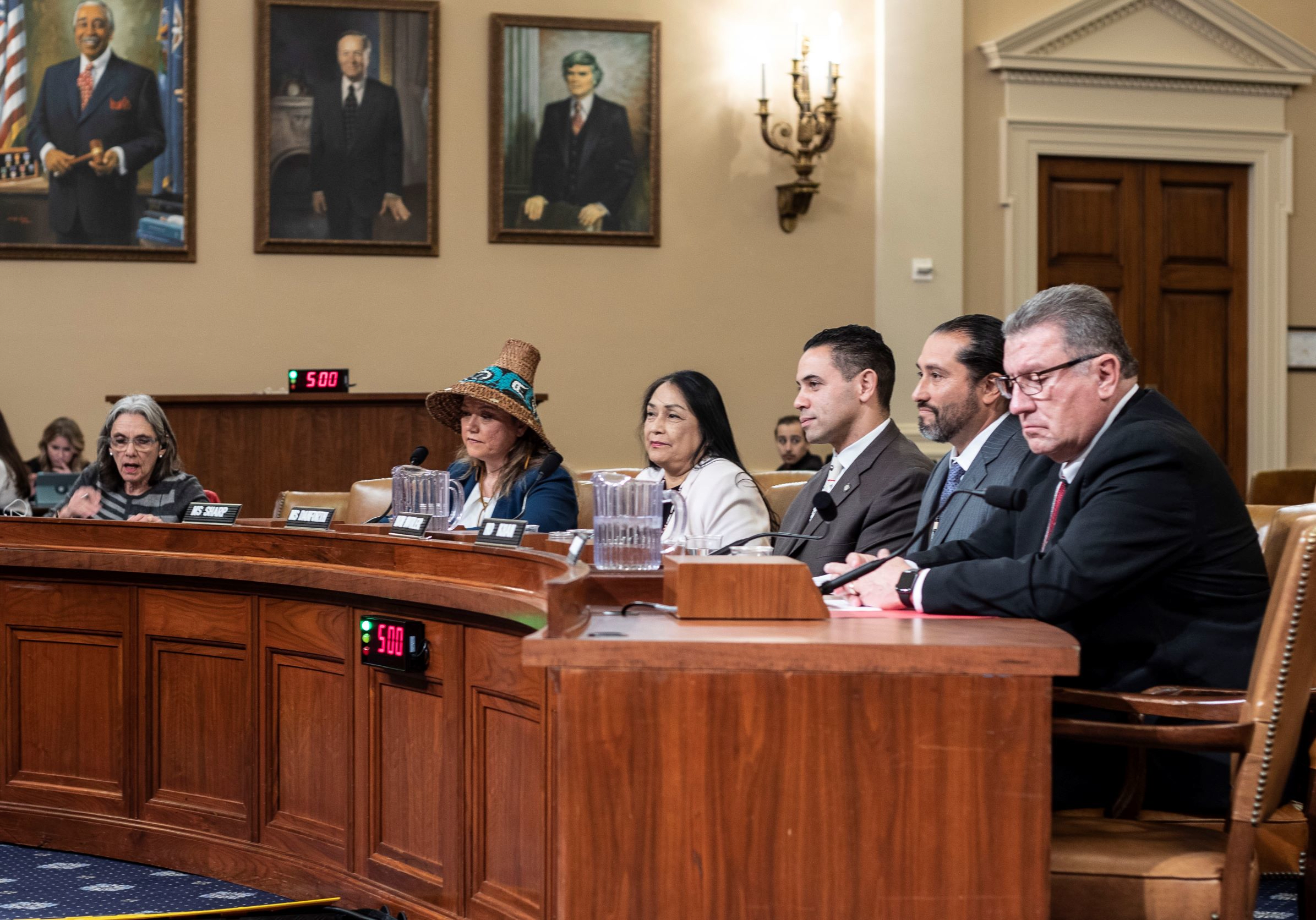 Four Sitting Native American Congressional Members and Tribal Leadership Testify in Historic Hearing on the Impact of Tax Code on Native American Tribes
March 4, 2020
FOR IMMEDIATE RELEASE
March 4, 2020
WASHINGTON, DC – In a historic event today, the Ways & Means Select Revenue Measure Subcommittee hosted a hearing on Examining the Impact of the Tax Code on Native American Tribes. The hearing is the first of its kind in over twenty-five years focusing on the impact of the tax code on Native American tribal governments.
"This hearing demonstrates that Congress truly wants to invest in Indian Country," said NAFOA President Cristina Danforth. "We hope this is the first of many actions Congress will take to improve tribal economic opportunities."
The hearing featured a diverse panel of witnesses with extensive backgrounds in supporting tribal economies including Native American Financial Officer's Association President Cristina Danforth, National Congress of American Indians President Fawn Sharp, Santa Ynez Band of Chumash Indians Chairman Kenneth Kahn, Mashantucket Pequot Tribal Nation Chairman Rodney A. Butler, and Pokagon Band of Potawatomi Indians Chairman Matthew Wesaw.
The panel of witnesses testified to the subcommittee and joined all four sitting Native American Congressional members: Representative Markwayne Mullin (OK), Representative Sharice Davids (KS), Representative Deb Haaland (NM), and who submitted written testimony in-person by Representative Tom Cole (OK) prior to the hearing.
Today's testimony spotlights the current economic needs of Indian Country's 574 tribes. Like all sovereigns, tribal nations need revenues to fund governmental services and public goods. However, over the last 300 hundred years, tribal economies have been hindered in their development due to shifting federal policy and attempts by local governments to subject some economic activities on tribal lands to a dual tax. Due to these barriers, generation of revenue through tribal economic development and removing inequities under the Tax Code are necessary to sustain tribal economies and communities.
In 2017, Indian Country was left out of the Tax Cuts and Jobs Act which constituted the most significant change in federal tax policy in over 30 years. This omission further impeded Indian Country's critical economic development needs.
"Tribal governments play a key role in investing in our local communities and driving our economy," Mullin said. "This bill fixes mistakes in the current tax code that negatively impact tribal citizens. The Indian Employment Tax Credit and the Adoption Tax Credit are just two examples of provisions that will help bring more opportunity and parity to Indian Country. I appreciated the opportunity to share my thoughts with the committee today and I look forward to working on getting these bipartisan solutions accomplished."
"The Tax Code should be fair and embody self-governance principles, but often times it works against Native communities. Today, we heard from experts about how the Tax Code operates to the detriment of health and wellbeing of Native Americans and how we can fix it," said Congresswoman Deb Haaland.
The panel of witnesses discussed longstanding tribal tax priorities including: the adoption tax credit; child support enforcement; tribal charities; increased deployment of new market and low income housing tax credits, the Indian employment tax credit, the essential government functions test; tax-exempt bond parity, pensions; tribal general welfare programs; and dual taxation.
"Congress has trust and treaty responsibilities to ensure federal tax policy affords tribal nations the same opportunities as other governments to provide for the social and economic wellbeing of their citizens," said Fawn Sharp, President of the National Congress of American Indians. "Indian Country has long advocated for passage of legislation to provide governmental parity and improved access to capital for tribal nations under the Tax Code. This hearing is the first step towards advancement of tribal tax legislation to address some of these issues which we expect to see in the 116th Congress."
Watch the full hearing here: https://www.youtube.com/c/waysandmeanscommitteehearings.

Click here for full written testimony by NAFOA President Cristina Danforth.
Click here for full written testimony by NCAI President Fawn Sharp.
For all media inquiries, please contact press@nunaconsultgroup.com.
###
About NAFOA
NAFOA launched over three decades ago as the Native American Finance Officers Association to highlight the role of tribal finance in fostering economic opportunities. NAFOA has grown along with tribal economies over the last 30 years to be advocates of sound economic and fiscal policy and developers of innovative training programs in financial management to build the financial and economic skills of the next generation, and convenes tribal leadership, experienced professionals, and economic partners to meet the challenges of economic growth and change. Through its work in growing tribal economies and strengthening tribal finance NAFOA supports the advancement of independent and culturally vibrant American Indian and Alaska Native communities. To learn more about NAFOA, visit the website www.nafoa.org.
About the National Congress of American Indians
Founded in 1944, the National Congress of American Indians is the oldest, largest and most representative American Indian and Alaska Native organization in the country. NCAI advocates on behalf of tribal governments and communities, promoting strong tribal-federal government-to-government policies, and promoting a better understanding among the general public regarding American Indian and Alaska Native governments, people and rights. For more information, visit www.ncai.org.