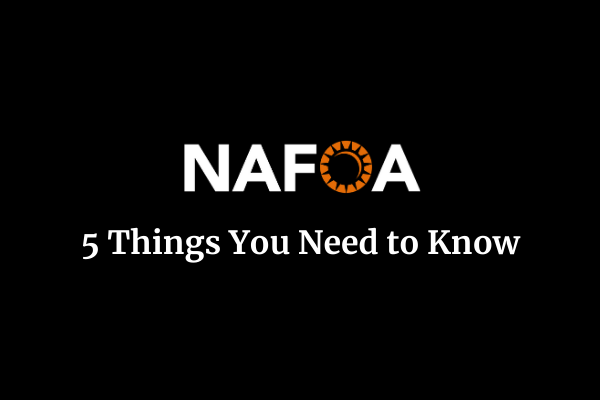 Nov 2: 5 Things You Need to Know this Week
November 2, 2020
Video of the Week: Congratulations to President Kip Richards Ramsey, Sr., Confederated Tribes and Bands of the Yakama Nation, for receiving the Executive of the Year Award at this year's NAFOA Leadership Awards. Watch his acceptance speech from #NAFOAFall2020.
1. ELECTION 2020:
TOMORROW IS ELECTION DAY - GET OUT AND VOTE!
2. POLICY:
FCC ISSUES FIRST LICENSES FROM 2.5 GHZ RURAL TRIBAL PRIORITY WINDOW
On October 23, 2020, the Federal Communications Commission (FCC) issued the first set of spectrum licenses through the agency's 2.5 GHz Rural Tribal Priority Window to various tribes and tribal entities across the United States and issued a press release.

The 2.5 GHz Rural Tribal Priority Window was open from February 3, 2020 and ended on September 2, 2020. This was after the FCC extended the deadline by 30 days in consideration of the current health and economic crisis.

Many advocates in Indian Country, including NAFOA, urged Congress to act and include a 180-day extension of the 2.5 GHz Rural Tribal Priority Window in the next tranche of COVID-19 legislation.

The FCC received over 400 applications to obtain overlay licenses for unassigned 2.5 GHz band spectrum to help address tribal connectivity needs.

Read more in NAFOA's latest broadcast.
3. RECENT PUBLICATIONS:
INDIGENOUS FUTURES SURVEY: THE LARGEST, MOST COMPREHENSIVE RESEARCH PROJECT EVER CONDUCTED IN INDIAN COUNTRY
The Indigenous Futures Survey (IFS) is the largest research project ever conducted in Indian Country. The sample represents over 6,400 Native peoples from across the United States, over 401 tribes, all 50 states, and has diverse representation across both age and gender identities.
The purpose of the Indigenous Futures Survey was to understand the priorities and needs of the Indigenous population in the United States. The study provides a chance for all individuals to learn from Indigenous Peoples- how we thinking about ourselves, what we find important, and what galvanizes us to make change. The survey also serves as a platform to hold politicians, educators, policy makers, and researchers accountable to hear our collective voice.
Visit Center for Native American Youth's website for the full report.
4. EDUCATION:
APPLY FOR MANAGEMENT LEADERSHIP FOR TOMORROW'S MBA PREP PROGRAM
For more than a decade, Management Leadership for Tomorrow's (MLT) winning career playbook combined with superior coaching has enabled thousands of underrepresented minorities to access America's top business schools and corporations.

MLT is seeking young people who are talented, ambitious, hardworking, and scrappy— people who have a sincere desire to change the world. MLT's MBA Prep program is the next step in the journey toward senior business leadership.

Apply today by November 30th for Round 3 of MBAP 2022.
5. ART:
SUPPORT NATIVE ART: PURCHASE A COPY OF SOCIAL DISTANCE, THE FEATURED ARTWORK FOR #NAFOAFALL2020

Social Distance by Chebon Dacon

Social distancing requires limiting close contact. We are the most social of all species and connection is essential to our health and well being. Eagles are also communal creatures flocking to roost in great numbers.

However, when in flight they are solitary creatures soaring high above the clouds perhaps even dancing on the moon. It is then they become the living symbols of courage, wisdom, and an illumination of spiritual healing.

Let it be so for each of us in this time.
Support a Native artist and own a piece of NAFOA Conference history by purchasing a print of Social Distance by Chebon Dacon. 13" x 19" prints are available for purchase for $30 plus $14 for shipping and handling. Order directly from the artist on Facebook.