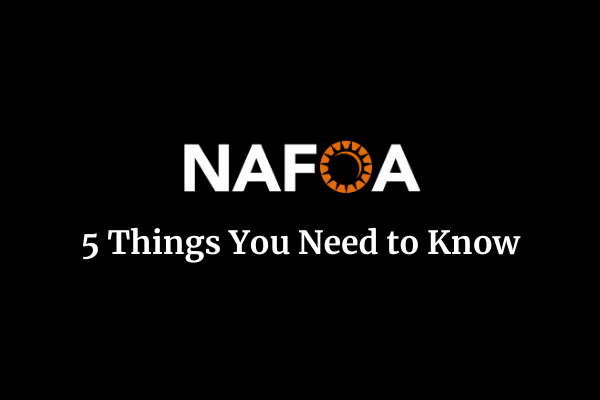 October 5: 5 Things You Need to Know this Week
October 5, 2020
5 Things You Need to Know this Week
Welcome to #NAFOAFall2020 Conference Week
(and other important policy updates for Indian Country)
Know someone who needs to be in the NAFOA-know? Click one or all these buttons to share with friends.
Photo/Art of the Week: NAFOA Conference Artwork: Social Distance by Chebon Dacon. Social distancing requires limiting close contact. We are the most social of all species and connection is essential to our health and well-being. Eagles are also communal creatures flocking to roost in great numbers. However, when in flight they are solitary creatures soaring high above the clouds perhaps even dancing on the moon. It is then they become the living symbols of courage, wisdom, and an illumination of spiritual healing. Let it be so for each of us in this time.
1. EVENTS:
WELCOME TO #NAFOAFALL2020 WEEK!
Did you register for the NAFOA Fall 2020 Virtual Conference? Make sure you find your confirmation email and register on Zoom to join the conference sessions.

For the best conference experience, please download or update your Zoom Client for Meetings to Version 5.3.1 (52879.0927).

2. INDIAN COUNTRY & COVID-19:
HOUSE DEMOCRATS INTRODUCE UPDATED CORONAVIRUS RELIEF LEGISLATION
Last week, House Democrats introduced an updated version of the HEROES Act. The House voted and passed the new version on Thursday October 1. The original Act was passed by the House in May and was intended to provide relief to individuals, businesses, and governments from the ongoing coronavirus pandemic. The updated version shaves over $1 trillion off the original price tag. Both versions are favorable towards Indian Country and tribal governments.

Negotiations this week stalled between the parties, and it is unlikely that the updated bill will be taken up by Senate Republicans at all. Relief negotiations are unlikely to resume before the election.
3. POLICY:
HOUSE WAYS & MEANS COMMITTEE CALLS FOR IMPROVEMENTS TO THE NEW MARKETS TAX CREDIT PROGRAM
4. FOR YOUTH AND YOUNG PROFESSIONALS:
CAREER BASICS FALL I REGISTRATION OPEN TIL
OCTOBER 9TH
In case you missed it, NAFOA is offering our Career Basics program this fall in two sessions. The Fall I is currently open for the month of October and registration ends October 9.

The Career Basics program equips Native youth and young professionals with the essential tools, such as professional development modules, budget planning, etc., to fare during these trying times. Sessions will be hosted on the following dates:

Know a Native youth or young professional who would benefit from the program?
Send us their name and contact information at education@nafoa.org, and we will extend a personal invitation.
5. #NAFOAFALL2020:
THE NAFOA FALL 2020 NAVIGATOR IS AVAILABLE FOR DIGITAL DOWNLOAD FOR ALL