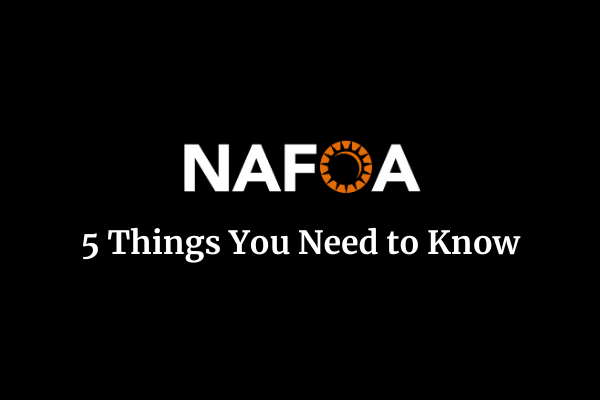 September 28: 5 Things You Need to Know this Week
September 28, 2020
5 Things You Need to Know this Week
NAFOA has the latest opportunities for tribes, families, and individuals.
Know someone who needs to be in the NAFOA-know? Click one or all these buttons to share with friends.
Photo of the Week: "I miss the moments before the start of the awards ceremony when all the finishing touches are coming together. You get to meet some great people, like Coach Barry Switzer. (FYI, he showed up early to practice his speech). I look forward to meeting our awardees virtually this Fall and celebrating all they do for Indian Country." — Cody, Education Coordinator

Let us know what you miss, too! Post photos of your favorite NAFOA Conference memories on Facebook, Instagram, or Twitter with #NAFOAMemories and tag @nafoaorg.
1. EVENTS:
THERE'S STILL TIME TO REGISTER FOR THE NAFOA 2020 FALL VIRTUAL CONFERENCE
The NAFOA Board Members, Cristina Danforth, VaRene Martin, Christina Jimerson, Hattie Mitchell, and Melanie Benjamin, have a special message for our community. Register soon and join us in a couple of short weeks as we gather the NAFOA community virtually for #NAFOAFall2020.
Thanks to the generosity of our Corporate Partners, NAFOA has a number of Sponsored Complimentary Registrations available to tribal members and employees to attend the conference. Please contact VaRene Martin or Dustin VanWinkle for more information.
Already registered for the conference? Follow these next steps.

Your registration confirmation email contains a link to register for the conference webinars on Zoom. Find this email and click on the link to register on Zoom.

YOU NEED TO COMPLETE THIS STEP TO ACCESS THE CONFERENCE SESSIONS.
2. POLICY:
NATIVE AMERICAN BUSINESS INCUBATORS PROGRAM ACT AWAITS PRESIDENT'S SIGNATURE
On Monday, September 21, 2020, the House of Representatives passed the Native American Business Incubators Program Act by voice vote. The bill was introduced by Representative Deb Haaland (D-NM) in March 2019. The Senate companion bill, introduced by Senator Tom Udall of New Mexico, now awaits a final signature from the President.

NAFOA has been supportive of this effort since the bill was initially introduced in 2017. We congratulate Congresswoman Haaland and Senator Udall for all the hard work they have put in to push this bill across the finish line. NAFOA will continue to work with Congress, the Department of Interior, and tribes to help ensure the program's success once the implementation process begins.

Read more in NAFOA's recent broadcast.
3. FOR FAMILIES:
WEBINAR: FAFSA ADVICE FOR PARENTS & STUDENTS —
CO-PRESENTED BY NAFOA AND AMERICAN INDIAN COLLEGE FUND
Join the American Indian College Fund on Wednesday, September 30, 2020 at 6:00 PM MDT/8:00 pm EST for a conversation about the Free Application for Federal Student Aid (FAFSA). The FAFSA opens October 1st, so we're getting parents & students ready with the best advice! Register today.
4. MEMBER TRIBE NEWS:
MUSCOGEE (CREEK) NATION CHIEF DAVID HILL NAMED TO TIME 100 MOST INFLUENTIAL PEOPLE OF 2020 LIST
TIME magazine on Tuesday revealed its annual list of the 100 most influential people in the world. Among those named in the 17th annual list is Principal Chief David Hill of the Muscogee (Creek) Nation.

The TIME 100 pairs guest contributors with the list of members. Rep. Sharice Davids (D-KS), a tribal citizen of the Ho-Chunk Nation, writes about Principal Chief Hill in his feature.

Hill was selected because his tribal nation took the McGirt v. Oklahoma case all the way to the U.S. Supreme Court, which they won in a 5-4 ruling on July 9.
Read more on Native News Online.
5. FOR YOUTH AND YOUNG PROFESSIONALS:
CAREER BASICS OPEN FOR TWO FALL SESSIONS
To accommodate more students this year, NAFOA is offering our Career Basics program this fall in two sessions. The Career Basics program equips Native youth and young professionals with the essential tools, such as professional development modules, budget planning, etc., to fare during these trying times. Sessions will be hosted on the following dates:
Fall I
Registration Period: September 28 - October 9 (register today)
Program Dates: October 1-31
Fall II
Registration: October 26 - November 6
Program Dates: November 2-30

Know a Native youth or young professional who would benefit from the program?
Send us their name and contact information at education@nafoa.org, and we will extend a personal invitation.