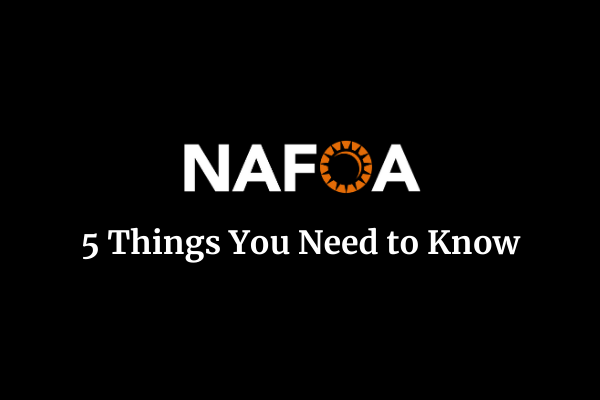 September 8: 5 Things You Need to Know this Week
September 8, 2020
5 Things You Need to Know this Week
Sharing resources to support the advancement of tribes and tribal citizens.
Know someone who needs to be in the NAFOA-know? Click one or all these buttons to share with friends.
Photo of the Week: "I'll miss getting to see new and old friends at the breakout sessions and social events. This is what makes NAFOA a community event unlike any other. I hope everyone is safe and it's great to know everyone is an email or phone call away during the virtual conference. I'm looking forward to connecting on the App! "— Emery, Financial Management Policy Specialist

Let us know what you miss, too! Post photos of your favorite NAFOA Conference memories on Facebook, Instagram, or Twitter with #NAFOAMemories and tag @nafoaorg.
1. EVENTS:
THE MUSIC OF #NAFOAFALL2020
NAFOA is excited to feature performances by Shelley Morningsong and Fabian Fontenelle during the Virtual 2020 Fall Conference. Shelley (N. Cheyenne), is the 2019 Native American Music Awards Artist of the Year and a multiple music award winner, songwriter, and skilled Native flute performer. Fabian (Zuni/Omaha), presents Northern Traditional dancing, storytelling and traditional hand drum songs.
If you would like to use a registration credit from the Spring Conference, please contact Missy Hurley.

Thanks to the generosity of our Corporate Partners, NAFOA has a number of Sponsored Complimentary Registrations available to tribal members and employees to attend the conference. Please contact VaRene Martin or Dustin VanWinkle for more information.
2. PROFESSIONAL DEVELOPMENT:
OSU INTERMEDIATE TRIBAL FINANCIAL AND ACCOUNTING CERTIFICATE
The OSU Intermediate Tribal Finance and Accounting Academy consists of:
4 week program (two 3 hour days a week)

Participants can receive up to 28 hours of CPE credit

Gain knowledge and experience to help you become a more effective tribal finance/accounting professional and leader

Interact with and learn from other tribal finance/accounting professionals throughout the state and beyond
3. FOR TRIBES:
HUD PROVIDES $100 MILLION IN CARES ACT FUNDING TO NATIVE AMERICAN TRIBES TO SUPPORT CORONAVIRUS RECOVERY EFFORTS
The U.S. Department of Housing and Urban Development (HUD) Secretary Ben Carson announced that HUD has awarded a total of $100 million to Tribes across the Nation as part of HUD's Indian Community Development Block Grant Imminent Threat program (ICDBG-CARES). This funding helps address problems that pose an imminent threat to public health or safety of Tribal residents and will be used to help Tribes prevent, prepare for, and respond to COVID-19. See list of funding here.
4. FOR THE COMMUNITY:
NDN COLLECTIVE ANNOUNCES GRANTS AVAILABLE FOR SECOND PHASE OF FUNDING
As the world continues to endure the impacts of the COVID-19 pandemic, NDN Collective announces the second phase of the NDN COVID-19 Response Project, a $10 million project designed to provide immediate relief to Indigeneous people, organizations and Tribal Nations uniquely impacted by the COVID-19 pandemic. The first phase of the project occurred between April and June of this year and provided $2.5 million in rapid response, gap support services to 95 different Tribal Nations and Indigenous-led organizations in the U.S. and Mexico. Phase two of the NDN COVID-19 Response Project is now focused on transition and resilience within Indigenous communities.

Read more about the second phase.
5. NAFOA NEWS:
NAFOA 2ND VICE PRESIDENT CHRISTINA JIMERSON HONORED AS WOMAN OF INFLUENCE BY BUFFALO BUSINESS FIRST
"A lot of work goes on behind-the-scenes at Seneca Gaming Corporation, which consists of three resort properties: Seneca Niagara Resort & Casino in Niagara Falls, New York; Seneca Buffalo Creek Casino in Buffalo, New York; and Seneca Allegany Resort & Casino in Salamanca, New York.

Christina "Chrissy" Jimerson would know. She serves as the corporation's Executive Director of Compensation and Total Rewards, overseeing compensation, benefits and human resources information systems.

Jimerson was recently honored as a Buffalo Business First 2020 Women of Influence "Behind The Scenes" Award Recipient for her leadership and responsible management of Seneca Gaming Corporation's investment in its team members. "
Read more on Native Business Magazine