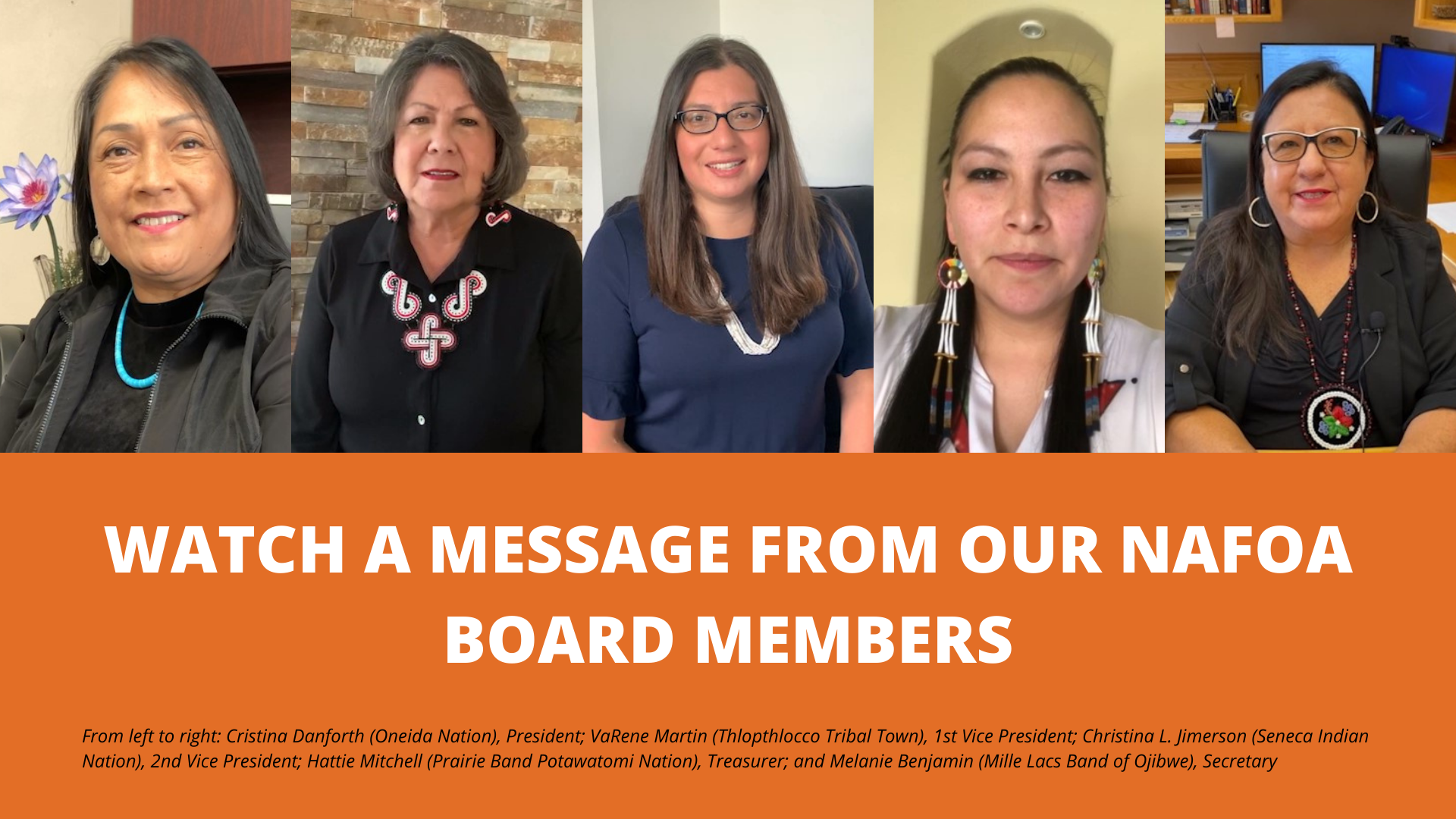 Still Time To Register for #NAFOAFall2020
September 24, 2020
There's Still Time to Register for the NAFOA 2020 Fall Virtual Conference
The NAFOA Board Members, Cristina Danforth, VaRene Martin, Christina Jimerson, Hattie Mitchell, and Melanie Benjamin, have a special message for our community. Register soon and join us in a couple of short weeks as we gather the NAFOA community virtually for #NAFOAFall2020.
Featured Breakout Session: Compliance One Fund at a Time in the COVID-19 Era

Over the course of the year many grant awards were impacted by the COVID-19 crisis. Join a group of tribal professionals and federal officials to ensure you are treating ongoing grants with prudence and following the compliance and reporting for CRF monies.


Join us for this session on Wednesday, October 7th at 1:30 PM ET.
#NAFOAFALL2020 Agenda Highlight
**Everyone registered for the conference will have access to the sessions for on-demand viewing.
Download Zoom to Prepare for #NAFOAFALL2020
All conference attendees need Zoom to access the sessions. Registered attendees received a Zoom link to register for the conference webinars. Please let us know if you didn't receive it or need the link to be re-sent to you.
Are You Interested in FREE Registration?
Thanks to the generosity of our Corporate Partners, NAFOA has a number of Sponsored Complimentary Registrations available to tribal members and employees to attend the conference. Please contact VaRene Martin or Dustin VanWinkle for more information
Thank you to our Conference Co-Chairs