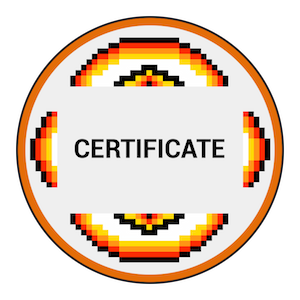 ONLINE: OSU Intermediate Tribal Finance and Accounting Program
October 22-November 19, 2020
9:00 AM - 12:30 PM Eastern Time (US & Canada)
Online – Live Zoom Sessions
The OSU Intermediate Tribal Finance and Accounting Academy consists of:


4 week program (two 3 hour days a week)


Participants can receive up to 28 hours of CPE credit


Gain knowledge and experience to help you become a more effective tribal finance/accounting professional and leader



Interact with and learn from other tribal finance/accounting professionals throughout the state and beyond



Digital Badge - Intermediate Tribal Accounting and Finance Certificate Program
As a participant of this program, you will also be eligible to receive a Digital Badge.  Program and project completion is required in order to receive the OSU Intermediate Finance and Accounting Digital Badge that can be added to your portfolio.  The badge will note the sessions covered and will serve as a validation of accomplishments, skills, and quality you have learned throughout this program.
In order to receive a certificate of completion, the participant must attend at least 90% of the program.
Project to Benefit Your Tribe: Digital Badge (Optional)
For applicability of learned material in the Intermediate Program, participants are encouraged to work with their employer in completing a project and case analysis of a financial/accounting issue to benefit their tribe/organization.  Participants may also find a case study of another tribe's financial challenges and seek solutions for that case.  The project will be outlined as follows: 1) Identify key issues and problems; 2) Establish objectives; 3) Formulate alternatives for resolving the issues; and 4) Give a recommendation on the best solution.
A thirty minute session is scheduled each evening and dedicated for participants to brainstorm ideas regarding this project with the help of an industry expert.  This project highlights the practices learned during this program, which in turn will benefit the participant's tribe or organization.  Projects are due by November 19, 2020.  Upon the satisfactory completion of the project, the participant will be sent a digital badge, which the individual can add to their LinkedIn page, other social media options and/or resume.
OSU Tribal Finance and Accounting Institute/Academy Options (in order):


Introductory Tribal Finance and Accounting Institute


Intermediate Tribal Finance and Accounting Academy


Advanced Tribal Finance and Accounting Academy (TBA)


Who Should Attend


Mid-level employees in tribal financial positions


Individuals who have attended and completed the Introductory Tribal Finance and Accounting Certificate Program


Professionals who need to acquire increased knowledge regarding tribal finance and accounting (i.e. accountants, lawyers, bankers, etc.)


Elected tribal officials and leaders who wish to better understand the financial side of a business decision