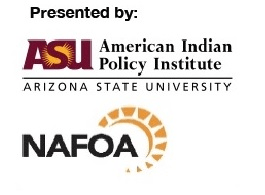 Arizona State University
250 E. Lemon St., Rm 272
Tempe, AZ, Arizona

> REGISTER ONLINE
> CPE FAQs
> SAMPLE JUSTIFICATION LETTER
> AGENDA PDF
Tribal Financial Manager Certificate Program
November 4-6, 2015
3:00 AM - 12:00 PM
The Tribal Financial Manager Certificate (TFMC) Program has celebrated over 8 years of preparing and recognizing professionals in the field of tribal government financial management.
What are the benefits?
Continuing education through NAFOA and Arizona State University's (ASU) American Indian Policy Institute is an investment in your career that can broaden your area of expertise in tribal government financial statements, grant management, taxation and budgeting. Earning the TFMC credential demonstrates commitment to your profession and offers widespread value to your tribe.
What will I learn?
Principles of federal Indian law and its effect on tribal financial management

Government accounting standards and principles

Compliance with the new OMB Uniform Guidance

Self-determination, self-governance, financial compliance, and record keeping

IRS Information Reporting Requirements for Tribal Employers under the Affordable Care Act

Effects of federal, state, and tribal taxation on tribal financial management, including development of a revenue allocation plan

Best practices for internal controls and procurement policies

Key tools for developing and managing budgets

Emerging financial issues in Indian Country
What is the cost to attend?
The programs fee is $1,600 and covers registration, lunch, WiFi, and the course materials.
Can I earn CPE credits?
Attendees can earn up 20 CPE credits. NAFOA is registered with the National Association of State Boards of Accountancy as a sponsor on the National Registry of CPE Sponsors. Check with your other professional certification programs (CFA, CFP, PMP, ABA, etc.) for recognition of CPE earned at the TFMC program.
To register for the November 4-6 program, visit the certificate program website.